who doesn't want mexican food at all times? and steak? i love me some steak. at one point in my life, i didn't love steak. my dad would cook it our on the grill to perfection and i would turn my nose up to it.
who was i?? an idiot, that's who.
so then once i started to realize how beautiful steak can be, i eat it pretty often.
i do try and switch up meat during the week though. just to make sure i am not getting too much of one versus the other. anyway, that's a question for your nutritionist, not me. until then, make these.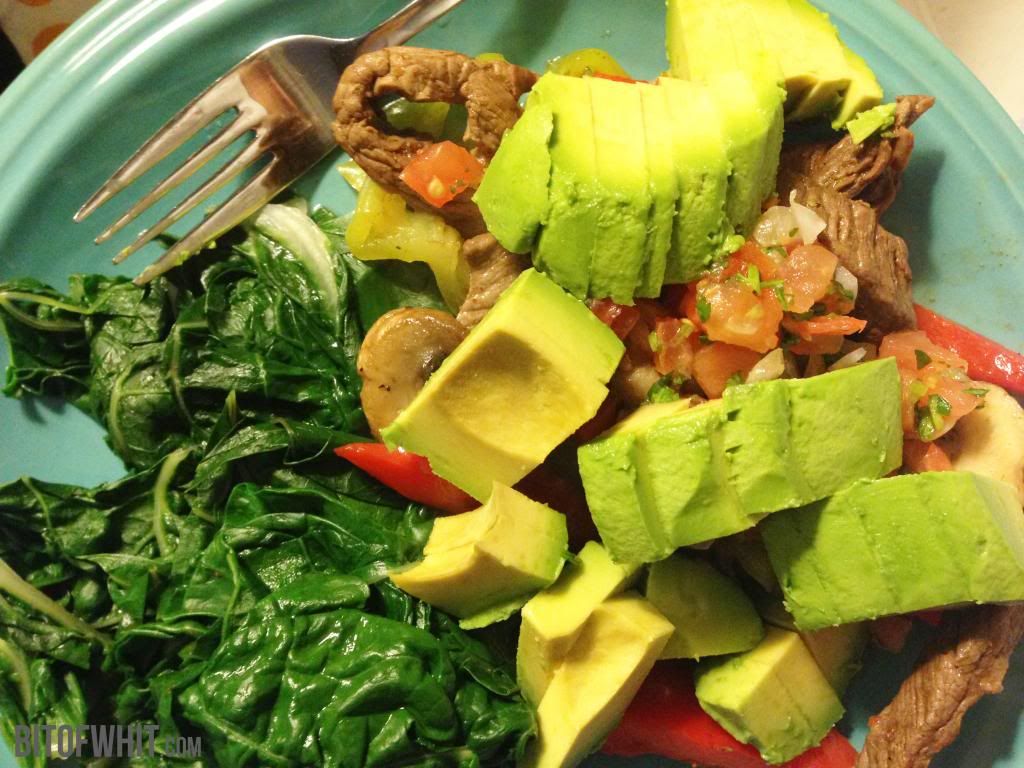 steak fajita scramble
makes 3 meals

1 lb sliced skirt steak
1 tbsp cumin
1/4 tsp each cayenne pepper, garlic powder, and crushed red pepper
1 green pepper, red pepper and yellow pepper, white onion
16 oz. carton of mushrooms
salsa (you can buy the fresh made pico if you don't have time to make your own)
1 bunch of kale or swiss chard
s&p
avocado

1. slice peppers and onions into strips.
2. heat skillet and put in skirt steak, peppers, and onions. cook until almost done. drain. add in spices, mushrooms, and a 1/2 cup water. cover and let simmer for 5-10 minutes.
3. while that is simmering, sauté kale / chard in water and salt until tender.
4. eat. plate it all up piling avocado on top. pickled jalapeños would be PERFECT with this too if you have some on hand already.