let's talk about tacos. and mexican food.
i LOVE all things mexican food. i can't NOT eat the chips and salsa in front of me at a restaurant. i've legit tried. so i try to limit those trips. and just make all the mexican food i want at home.
that includes tomatillo salsa. holy smokes this shit was good. who cares if you don't have chips to eat this with.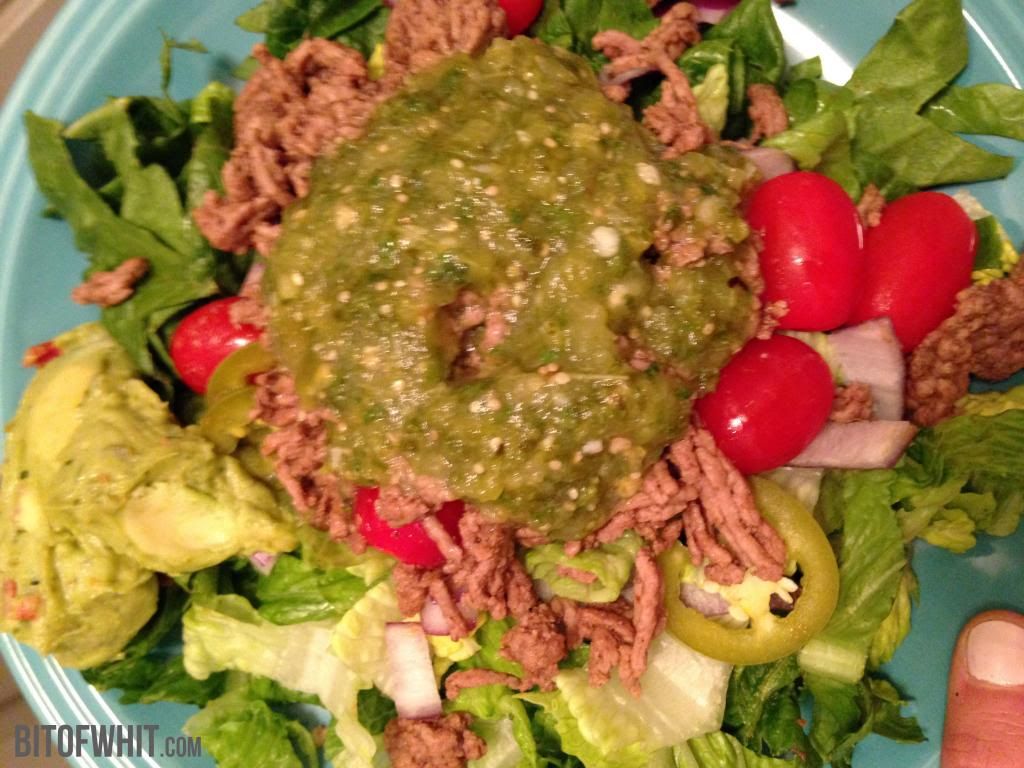 taco salad with tomatillo salsa
makes 3 meals

1 lb ground beef
1 tbsp cumin
1/4 tsp each cayenne pepper, garlic powder, and crushed red pepper
2 heads romaine lettuce, shredded
1/2 red onion, diced
cherry tomatoes
guacamole

for the salsa:
pickled jalapenos
1 lb tomatillos
2 jalapenos, i leave the seeds in one...but i like SPICY so you might want to de-seed both
1 clove of garlic
1 lime
1 cup cilantro
salt to taste

1. to make the salsa: preheat oven to 400 / broil. peel and rinse tomatillos. place tomatillos and jalapenos on roasting pan with tin foil. broil for about 5-7 minutes, turning once. you want them a little charred. that's the good stuff. remove from oven, cut tops and place in food processor along with the jalapenos (seeds removed if you'd like), cilantro, lime juice, and garlic. blend. taste and add salt to your taste. then refrigerate until ready to eat.
2. heat skillet and put in ground beef. cook until almost done. drain. add in spices and a 1/2 cup water. cover and let simmer for 5-10 minutes.
3. eat. make a salad and add your guac and salsa on top!