i LOVE brussel sprouts. and pork. and jalapenos. and salsa. so why not make something will all of these things? there really is no reason not to. i know.
and it turned out freaking amazing.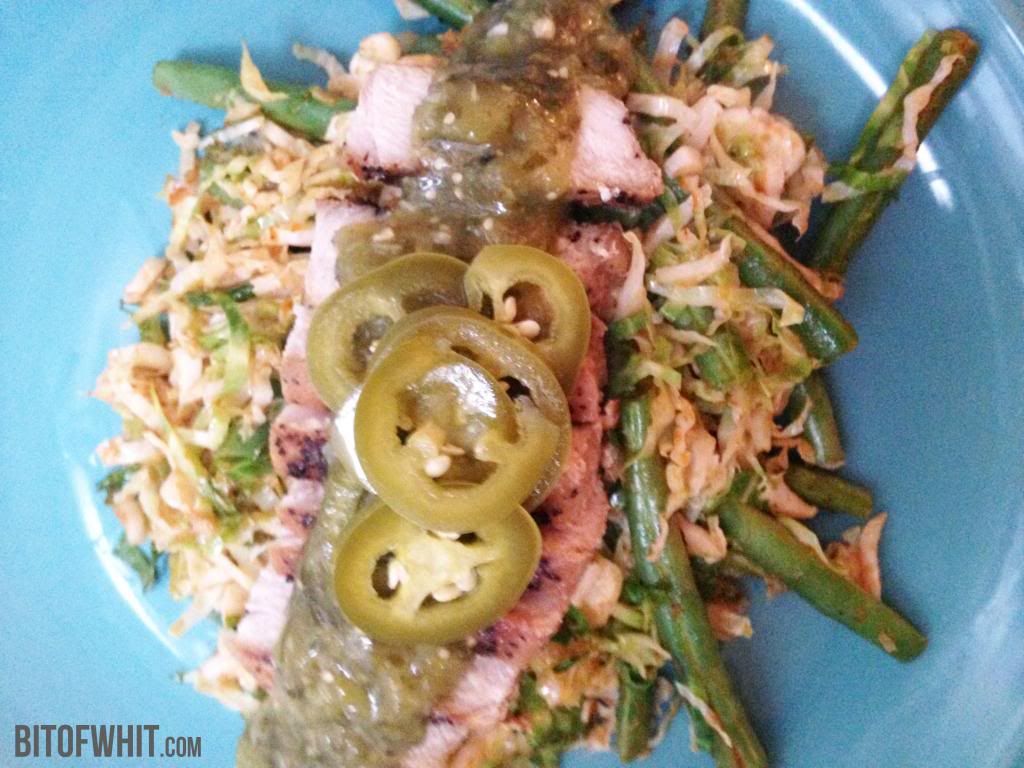 pork with shredded brussels
makes 3 meals

for the salsa:
1 lb tomatillos
2 jalapenos, i leave the seeds in one...but i like SPICY so you might want to remove the seeds to both
1 clove of garlic
1 lime
1 cup cilantro

3 pork tenderloins, an inch thick
1 lb brussel sprouts
1/2 green beans
sriracha
coconut oil
pickled jalapenos
s&p

1. to make the salsa: preheat oven to 400 / broil. peel and rinse tomatillos. place tomatillos and jalapenos on roasting pan with tin foil. broil for about 5-7 minutes, turning once. you want them a little charred. that's the good stuff. remove from oven, cut tops and place in food processor along with the jalapenos (seeds removed if you'd like), cilantro, lime juice, and garlic. blend. taste and add salt to your taste. then refrigerate until ready to eat.
2. while oven is hot, set to 350 and cook the pork in glass dish with salt and pepper until internal temp is 140. about 25 minutes. slice into 1/4 inch pieces.
3. roast green beans with coconut oil and salt in oven with pork for 10-15 minutes depending on your preference of crunch.
4. while pork and beans are cooking, shred brussels and place in hot skillet with a tbsp of coconut oil. stir continuously. about 2 minutes in, add in sriracha (about 3-4 turns of the pan) and a little salt. continue to cook another 5 minutes, stirring constantly.
5. eat. pile everything on top of brussels and top off with some jalapenos.